9-days
Safari
Easy
Access
Adapted
Vehicles
Pool (*)

Free
Wi-Fi (*)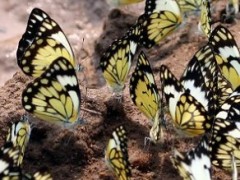 Entebbe Botanical Garden. © Sonia Beeckmans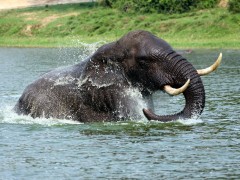 Kazinga Channel. © Sonia Beeckmans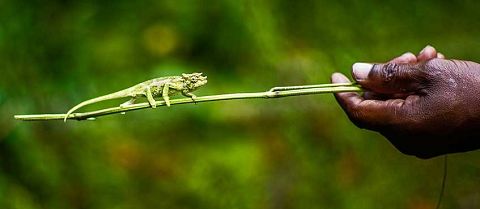 Kibale Forest. Lucky - but not so rare - encounter during a walk in the forest: a small chameleon. © Pippo Mettone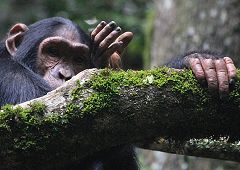 Kibale Forest. A forest chimpanzee seems like to waving goodbye to the photographer.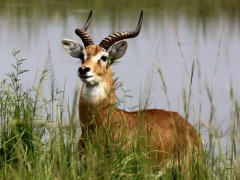 Kobs Circuit Trail. © Sonia Beeckmens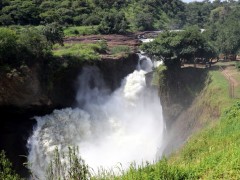 Murchison Falls. Some of the most powerful moving water in the world, the top of Murchison Falls sees the entirety of the Nile River squeeze itself through a mere 8-meter gap; an epic display of nature's power. The top of the falls is an open area where guests can view the chasm from multiple angles. A trail down the side of the gorge allows guests to hike down to the bottom, an opportunity to see the main falls from different angles and elevations, as well as the second "Independence" falls. The hike can be done in conjunction with boat trips. © Sonia Beeckmans


Mweya Lodge. Mweya Lodge is the only accommodation unit built on what is know as the peninsular. Due to its prime location, the lodge has the most spectacular views over the Kazinga Channel. © mweyalodge.com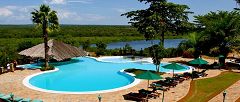 Paraa Safari Lodge. Paraa Safari Lodge offers a unique blend of comfort, relaxation and adventure. The luxurious pool overlooks the winding River Nile below, which was the setting for the Hollywood movie The African Queen (1951), starring Katharine Hepburn and Humphrey Bogart.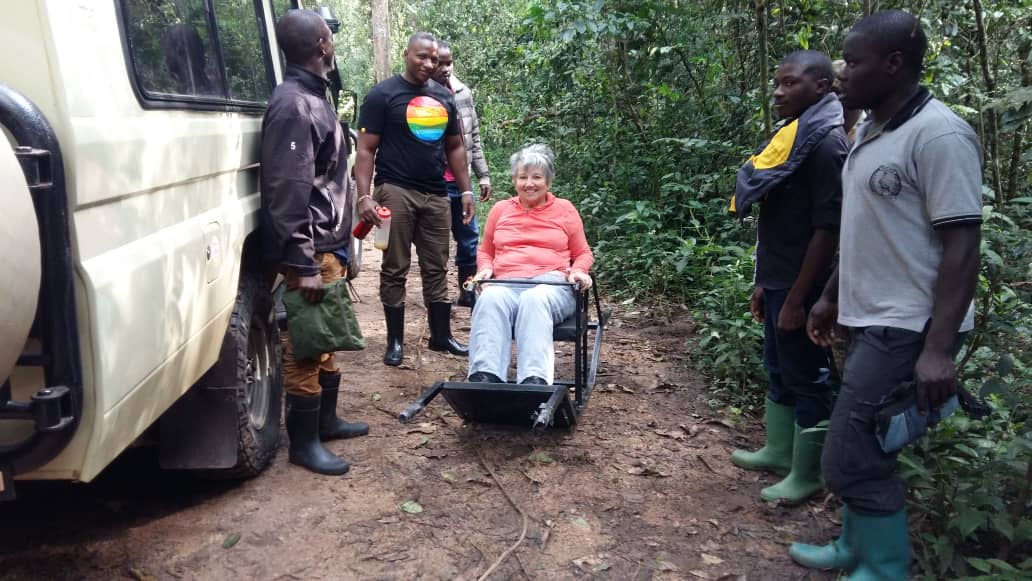 Judy is about to start her exploration through Kibale Forest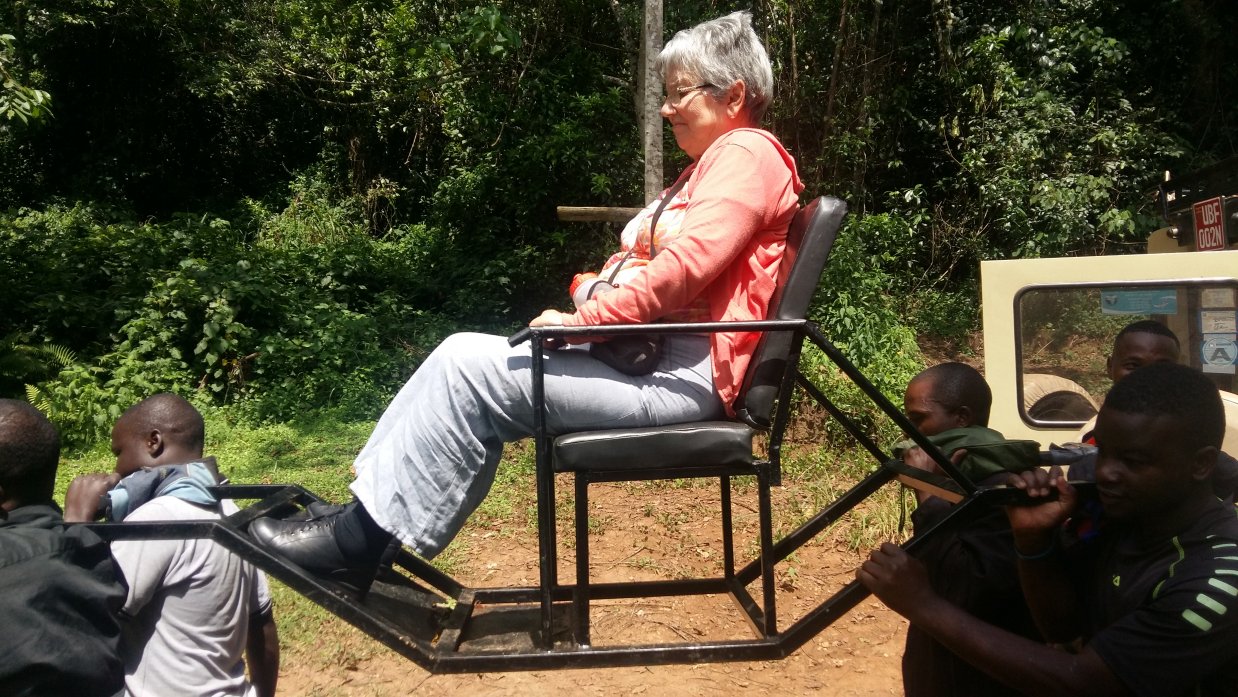 Judy on her sedan chair is going to explore the Kibale Forest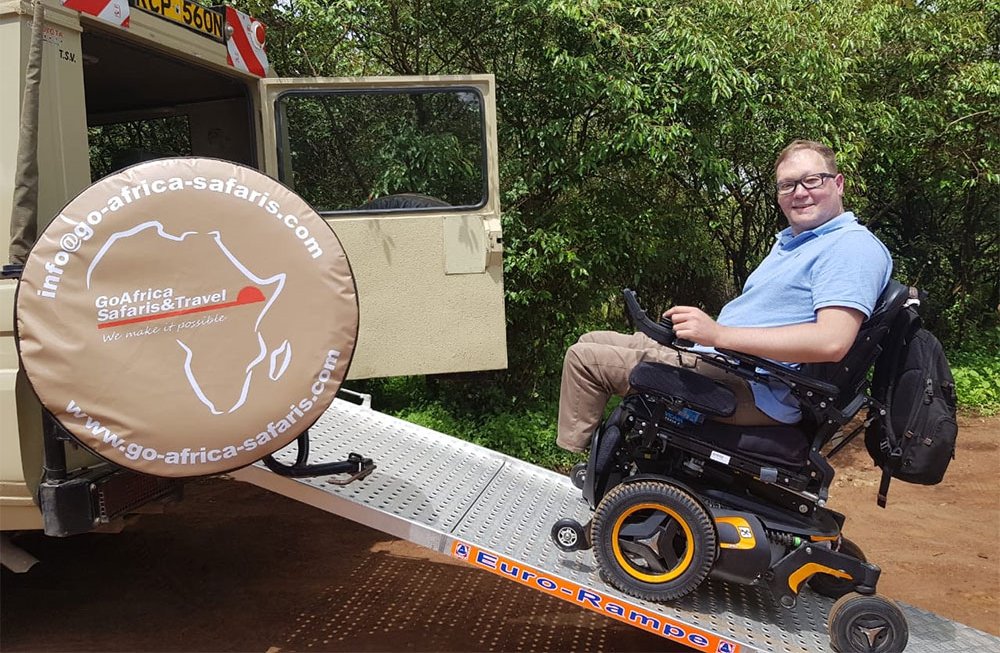 Land Cruiser equipped with Wheelchair Ramp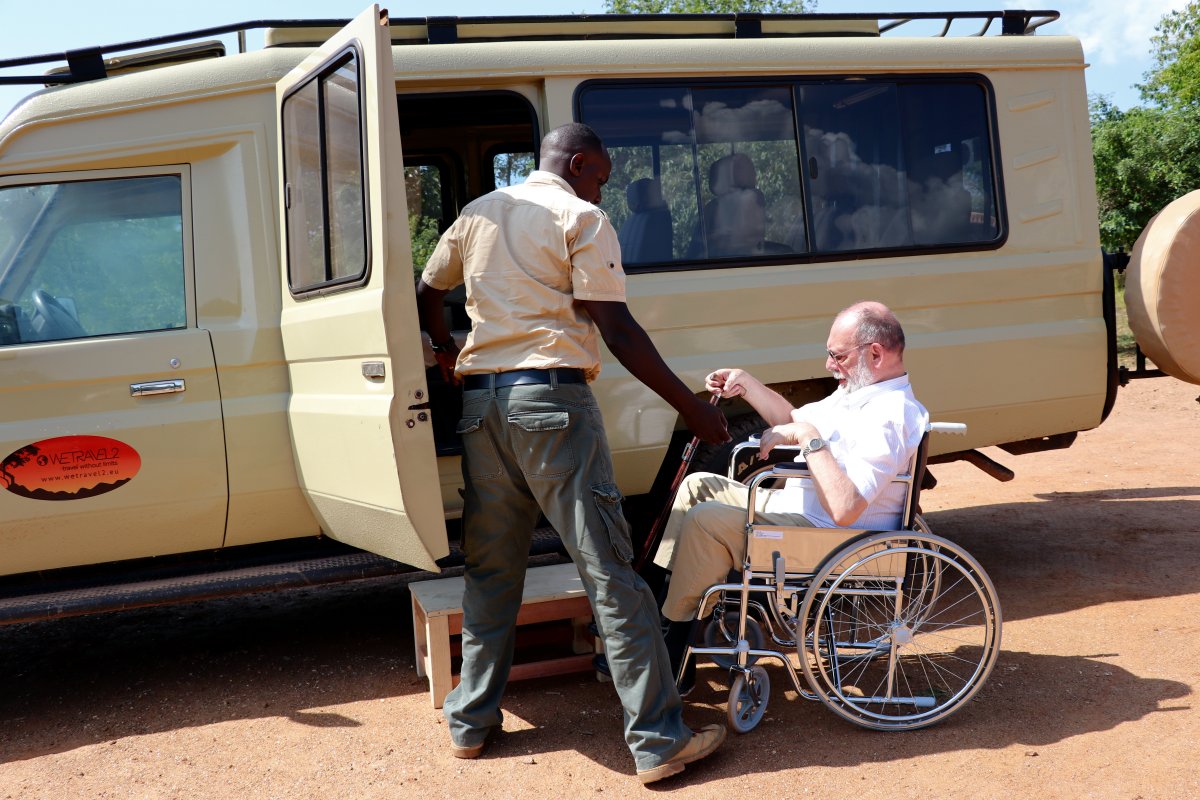 Henry helps Eldibert to get into the Land Cruiser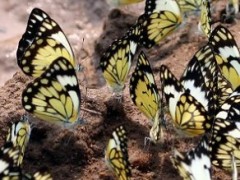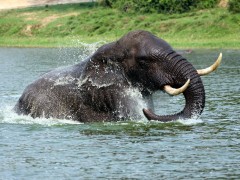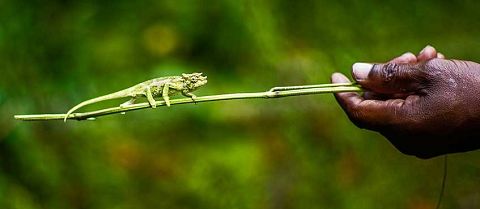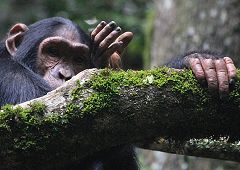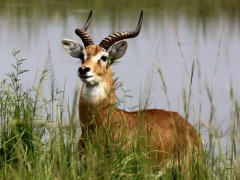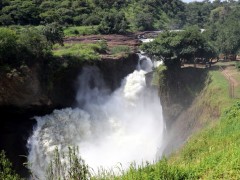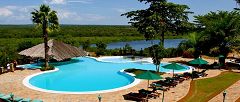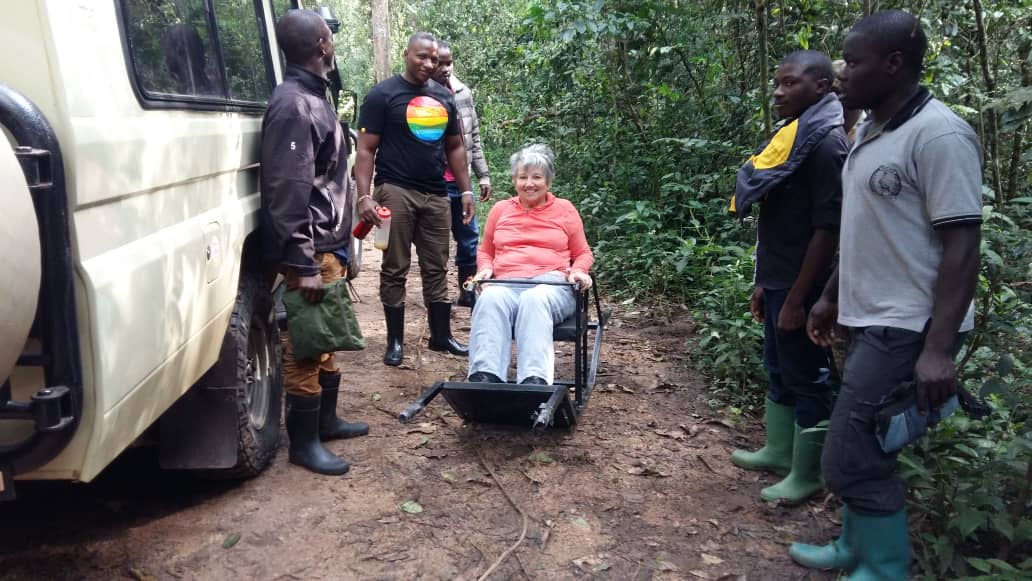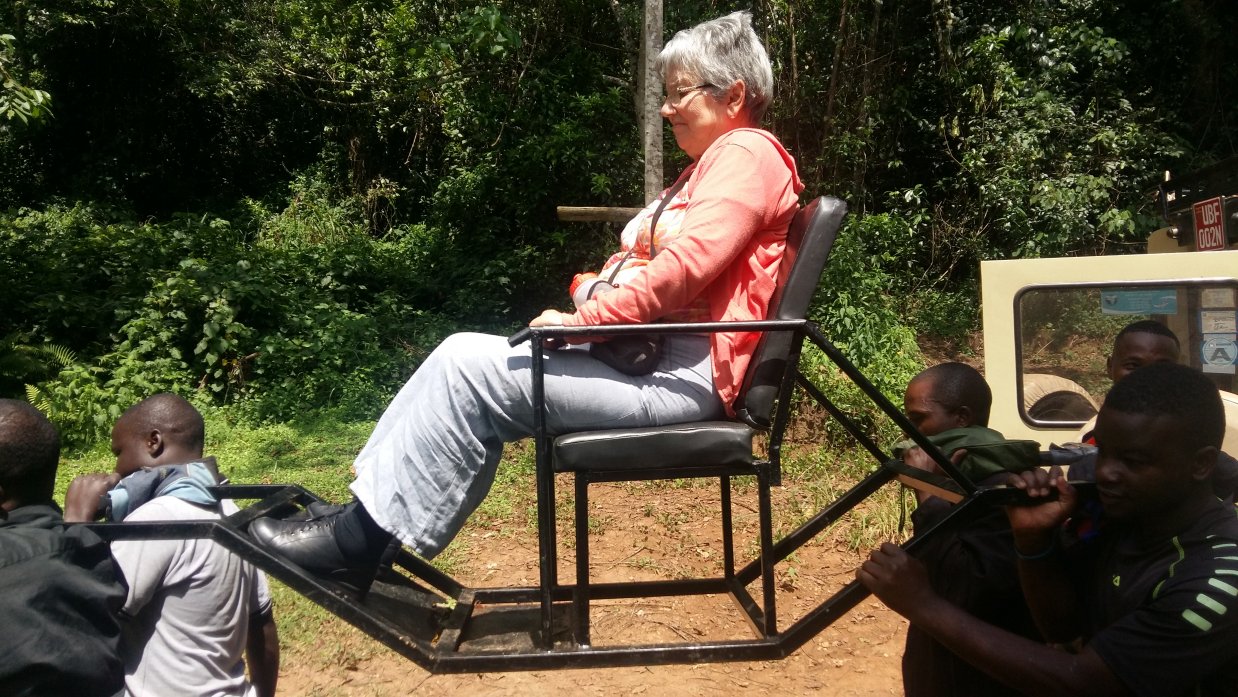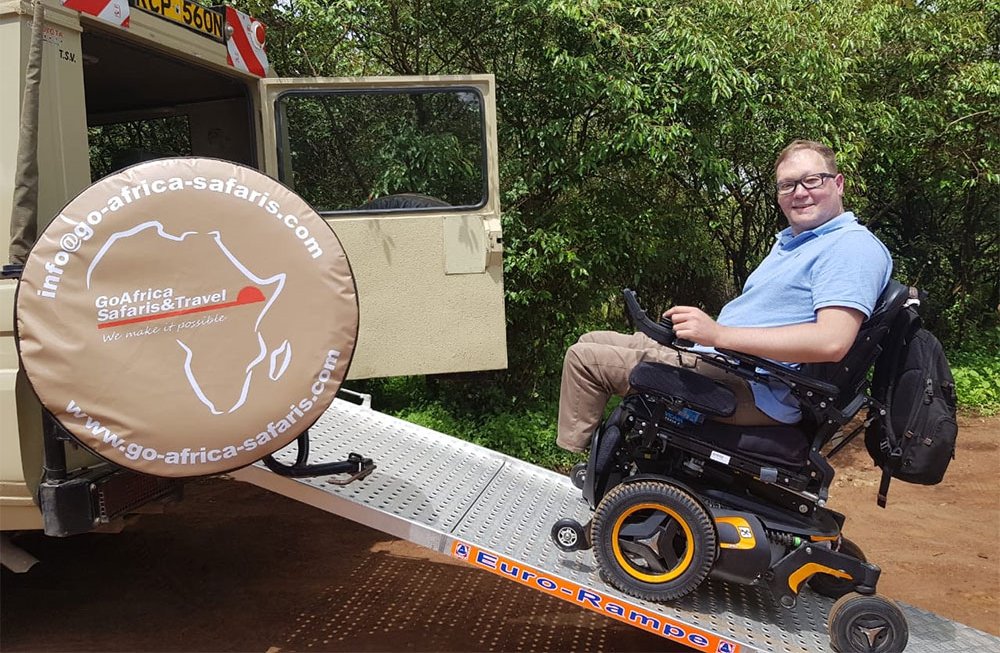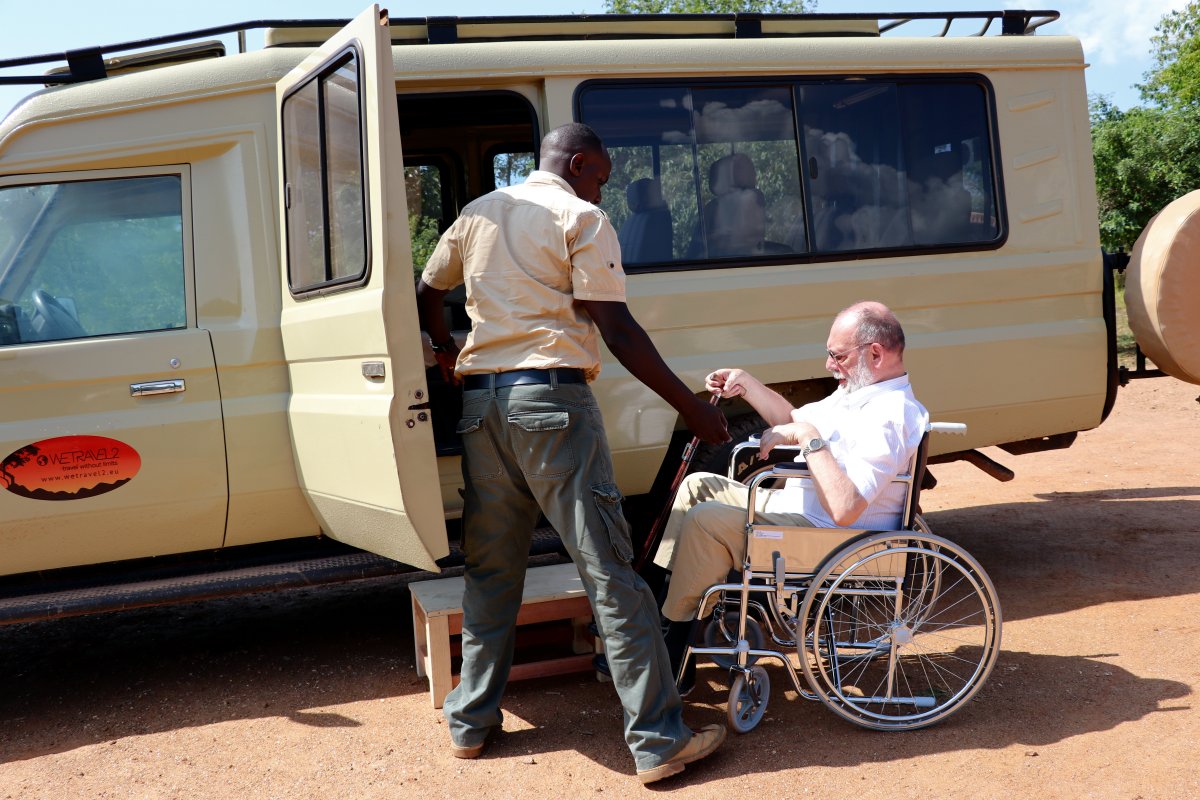 ---
Wonders of Uganda (u1)
A 9-days safari through Murchison Falls, Kibale Forest and Queen Elizabeth National Park
Safari highlights
During Wonders of Uganda (u1) you will driven to explore these superb african spots:
Programme
Day 1 - Arrival Entebbe Airport
Arrival at
Entebbe Airport, you will be met by our driver/guide on arrival, transfer of about 50 min to your hotel - Overnight at the Lake Victoria Serena Resort

Day 2 - Entebbe - Murchison falls National Park
After breakfast begin the safari with panoramic drive north-west through the famous Luwero Triangle. En-route stop at the Kabalega Diner for lunch and later proceed to Murchison Falls National Park, stopping at the spectacular top of the fall where you can see the Nile's beauty perfected! Marvel at the Nile, compressing from 50 meters to squeeze through a 6 meters canyon dropping 50 meters with a thunderous roar creating beautiful rainbows, a plume of spray and the best thing that happened to the Nile... "the Murchison Falls". Enjoy the amazing sunsets! Dinner and overnight at Paraa Safari lodge.

Day 3 - Murchison falls National Park
Spend the day at Murchinson Falls with a game-drive on the northern bank of the Nile, with chances of seeing giraffes, elephants, lions, hartebeest and different species of birds. A peculiarity of the mid-western section of the park is the thousands of Borassus Palm trees that dominate the landscape. The high numbers of elephant are largely responsible for the spread of the Borassus Palm seeds as they like to eat the fruit and deposit the seeds widely complete with a ready source of nutrients for them to grow! The main accommodation on the North bank in this western region is the Paraa Safari Lodge which also has a view over the Victoria Nile. This Lodge is also well established and has many facilities to ease tired safari travellers. Apart from the good game viewing opportunities, one of the highly recommended activities is the boat ride to the bottom of the mighty Murchison Falls. The Victoria Nile, which is in some places over 200 mt wide, is forced in to a gorge that is 6 mt wide! The result is a spectacle and display of the power of water when restricted. Another boat excursion that is available is one that goes west to the delta where the Victoria Nile meets Lake Albert. This trip brings you just meters from the wildlife that is always present by the river. This area is also vey rich in bird life, and is truly an Ornithologist's treasure trip. Lunch, dinner & Overnight Paraa Safari Lodge.

Day 4 - Murchinson Falls - Kibale Forest Nationa Park (5 hours)
After breakfast we head south via Hoima to Fort Portal. Fort Portal rests in the shadow of the fabled Mountains of the Moon and is famous for the many tea plantations. From this lovely town we will continue to Kibale National Park. This forest is home to approximately 1440 chimpanzees and numerous other species of monkeys and mammals. There is also around 500 forest elephant, which are difficult to see except in the early morning and late evenings. With this region being on the Northern edge of the Great Rift Valley, there are other very unique attractions in the way of Crater Lakes. These picturesque bodies of water dot the landscape and have very similar vistas as one would find around the alpine lakes! There are 38 such crater lakes. Dinner and overnight at the Primate Lodge

Day 5 - Kibale Forest National Park - Chimpanzee Habituation
Wake up and enjoy an early breakfast at the lodge (option to carry a packed breakfast). Today we are going to experience Chimpanzees Habituation! Drive to the park offices to join the Kibale Forest trackers, guides and scientists when they go out the whole day in the footsteps of one of the chimpanzee communities. Start the day with the chimps as they de-nest and awake at dawn around 6-6.30am and spend the day with them as they go about their daily chores of hunting, feeding, copulating, raising their young, breastfeeding, resting, patrolling and displaying until its time to next. They start to build their new nests around 5pm. Return to your lodge at the end of this enjoyable day. For travellers with limited mobility there are stretchers available and porters who happily assist you to make this day possible! Dinner and overnight at the Primate Lodge.

Day 6 - Kibale Forest - Queen Elizabeth National Park (3 hours)
After a delicious breakfast we proceed to Queen Elizabeth National Park. Driving south, along the edge of the Kibale National Park you drop down in to the floor of the Rift Valley and it becomes much warmer and the vegetation becomes more savannah like with open plains and scattered shrubs and trees. The first sign that you are close to the park is the view of Lake George and the Kazinga Channel that connects Lake George to Lake Edward. As you enter the park you will come across one of the many Soda Ash Lakes that have a very pungent sulphur smell. Such lakes are very characteristic of the volcanic lakes on the floor of the Rift Valley. Many animals, particularly buffalo congregate along the shores of these lakes to lick the mineral salts left by the evaporating waters. Mweya Safari Lodge is the only accommodation unit built on what is know as the "peninsular" and has the most spectacular views of the Kazinga Channel to the East and Lake Edward to the West. This makes for the most spectacular sunrises and sunsets; both are no to be missed when staying here. Check in at the Mweya Lodge, have lunch and enjoy the stunning scenery and views all around you! In the afternoon we take on a boat cruise along the Kazinga Channel, which takes you within meters of elephants, buffaloes and hippos that are cooling off at the shores, this cruise will definitely be one of the your highlight! At the end of the boat ride you come across a fishing village that is in the middle of the park, and a demonstration of how important the balance between humans and wild animals is. Dinner and overnight at Mweya Lodge.

Day 7 & 8 - Queen Elizabeth National Park
Spend two full days at Queen Elizabeth National Park with lots of activities to take part in. One day you could wake up early - enjoy a cup off coffee or tea with a cake before you head our to the mating grounds of the Uganda Kobs. We search for lions, elephants, buffaloes and other wild animals in their natural habitat before returning for full breakfast. In the afternoon, relax at the lodge and later in the evening head out for an evening game drive around the leopard loop with high chances of spotting one or two and many other species of animals. The other day you could do a tour of the salt lakes around the park. One of the most famous lookout points in Uganda is in the Katwe-Kabatoro community on Katwe Salt Lake where traditional salt mining has been practiced since the 16th century. The neighboring Lake Munyanyange is a bird sanctuary, as well as a migratory location for the lesser flamingo from august to november. This drive will take about 4 hours and then return to the lodge for lunch. After lunch, relax at the lodge and enjoy the views! Dinner & Overnight at Mweya Lodge.

Day 9 - Queen Elizabeth National Park - Entebbe
After early breakfast, you will depart from Queen Elizabeth National Park and fly back to Entebbe (by road it would be possible but would takes about 11 hours). Arrival at Entebbe airport to fly back home or to take an extension program.

POSSIBLE EXTENSION PROGRAMS:
first option (if any), for example: Beach holiday Zanzibar- flight from Nairobi to Zanzibar
second option (if any), for example: Short road safari extension to the Kenyan coast with visits to Amboseli and Tsavo National parks
---